A brief history of Whipps Cross Hospital



In the mid-eighteenth century, further decorative work was commissioned by the building's then owner, Samuel Bosanquet 2 . His additions included a four-column Tuscan portico to the front of the house, the entrance hall paved with large black and white marble squares, and a new oak central staircase with twisted balusters. The sides of this were panelled in oak and the ceiling painted with an allegorical scene, with scrolls in the corners intertwining the initials S and B 3 . A room to the right of the entrance hall had a finely moulded ceiling and a fireplace; another room had a handsome marble fireplace of the same style. 4
The house was assessed in 1785 for 80 windows, a number only exceeded in Leyton by the Great House. Sir John Soane's workmen were busy at the house in 1786 and the front was altered to his design in 1787. To the west of the house was a large pond, and another, but smaller, lay to the east just outside the estate boundary alongside James Lane. The Bosanquet family occupied Forest House until 1831 after which it was let until about 1884. The building was then left empty.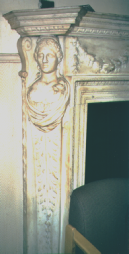 In 1886, a Mr Creed a a sought support from the Leyton Local Board 5 for his plan to lay out the Forest House estate as a cemetery. This idea was opposed by the Board and a committee of local residents. A public inquiry by an inspector from the Home Office was held and, following his report, Board members met the Home Secretary and were able to secure the rejection of the scheme.
2 The Bosanquets originated in Languedoc, south-west France. Samuel (1700–1765) purchased Forest House in 1743 and was followed by four generations of the family who held the estate for nearly 150 years. Mary Bosanquet (1739-1815), the Wesleyan preacher, grew up at Forest House.
3 This ceiling was so badly damaged by bombing in the Second World War that it had to be taken down.
4 This fireplace was later removed and placed in the entrance hall of Whipps Cross Hospital. Photo above.
5 Local boards were local authorities in urban areas of England and Wales from 1848–1894. They were given powers to control sewers, clean the streets, regulate environmental health risks including slaughterhouses and ensure the proper supply of water to their districts. Local boards were eventually merged with the corporations of municipal boroughs in 1873, or became urban districts in 1894.
a Richard Creed was the architect who designed the almshouses in Church Road, Leyton, the cricket pavilion in Leyton, St Catherine's Church in Hainault Road, Leytonstone, and the dining hall of Forest School, Walthamstow. He also designed the Monmouth Cottage Hospital suggesting a connection with the Bosanquet family of Forest House and Dingestow Court near Monmouth. {David Boote}






Leyton & Leytonstone
Historical Society