Leyton & Leytonstone
Historical Society



Peggy Knight, The Leyton Typist with Nerves of Steel (continued)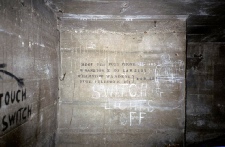 Peggy was judged suitable at the 'Students' Assessment Board'. She was to be a secret agent, but a message courier rather than a spy. Even so, her presence in occupied territory put her life in danger if she was caught.
As a civilian she would not be regarded as subject to the Geneva Convention on the treatment of prisoners of war. Every SOE team had a radio for transmitting messages to Britain. If she fell into German hands Peggy would be accused of espionage and liable to execution.
Peggy was sent for training at Thame Park in Oxfordshire and at Saltmarsh, Hampshire. The SOE ran a network of about 80 large country houses providing intensive courses. Both sexes learnt parachute jumping at Ringway airport near Manchester. There was a stationary fuselage from which trainees could practice dropping. Bad weather meant that Peggy only had one practice jump from a plane, instead of the usual six.
Bomber aircraft were in great demand and the RAF resented having to use a few for SOE operations. Peggy was the first SOE to be dropped from an American aircraft. The planes kept below the height monitored by enemy radar, below 600 feet, except for a climb above France to navigate by rivers caught in moonlight and other landmarks. Agent drops were only made within one week of a full moon. A local Resistance unit would set out lights showing where the SOE agents should land.
On 6th May 1944 Peggy Knight was parachuted down near Marcenay, south of Paris in the Burgundy region. The Resistance marked out a different place from the one intended. Peggy and other agents were trained in Britain to leave the landing place as soon as possible.